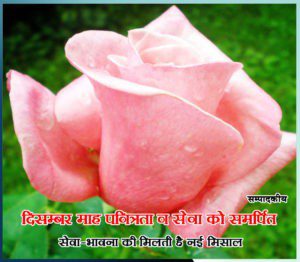 Editorial
A special campaign is being run to demolish the blindness in this month
A torch of welfare works has been lit by the Dera Sacha sauda such as Cloth to the needy, shelter, food to the hungry, support to the helpless, granting of education, body donation, blood donation etc. Apart from this a huge campaign in the regard of Ophthalmology is being organized in the holy remembrance of His Holiness Param Pita Shah Satnam Singh Ji Maharaj.
The true guide of spiritualism Revered Shah Satnam Singh Ji Maharaj has awaken the whole world with practical knowledge. Each and every particle of the world is lit with Their Divine radiance.
The virtues of such a Spiritual guide Param Pita Shah Satnam Ji neither can be written, nor can be spoken, on whose support, the earth and the Sky, the universe are moving and are scented with His radiance, two worlds are supported.
The nature itself has not been able to sing the virtues of the true Spiritual Master. If you make paper of the whole of the earth, make pens of all the wood, rub all the mountains and make ink by mixing all in the water of all the seas and if the writer is air, then all the paper, ink etc. material may become exhausted.
The writer may also be tired but the infinite virtues of the true benefactor cannot be written, neither it can be sung.
The Revered Spiritual Master, Param Pita Shah Satnam Ji Maharaj's kindness is indescribable. If we count the humanity welfare works being done by the true benefactor Saint Dr. Gurmeet Ram Rahim Singh Ji insan, the followers of Dera Sacha Sauda are busy day and night in these works. They are donating kidneys while living, donating blood , donating eyes and bodies after death, cloth donation, granting education ie.
all the 127 works of humanity welfare, how much may such works increase no matter, the 60 million spiritual followers of Dera Sacha Sauda carry out these works with dedication.
Under this campaign,the day of 13-14-15 December is organized in the memory of Revered Param Pita Shah Satnam Ji Maharaj.
This day is a symbol of purity and dedicated to the service. On this day, in the guidance of the present revered Saint Dr Gurmeet Ram Rahim Singh Ji Insan, at the Shah Satnam Ji specialty hospitals is organized by the name of Yaad-e-Murshid Shah Satnam Ji, free eye check-up camp. In which thousands of patients with eye problems are operated and thousands of patients are fitted with the new eye lenses. They get a new vision and thank the Revered Guru Ji for the favor done to them. The volunteers present an example of selfless service for the patients.
This way, the huge camp is a milestone in the service of humanity.