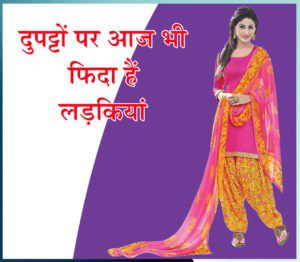 Dupattas or long scarf may have made their place only in the neck leaving the breast, but it is the first choice of the newly weds and teenagers.
Dupatta is considered to be an add-on to the beauty. Most of the women considered it to be a loving savior to the modesty.
Due to different prints and styles, even today dupatta is the wrapper of the breast. Doing mix-match, dupatta can be worn with traditional as well as western dresses. Even the simple dress can be made attractive with stylish dupatta. Let us know about the ever green handicraft dupatta varieties and their specialties.
Boutique Print Dupatta:
These dupattas can be printed with the help of wax. By wearing these dupattas, you will stand unique in the crowd. These dupattas are available in silk, cotton and all other stuffs. Use these dupattas with salwar kameez or jeans and tops. In these dresses in addition to traditional, you will be having a little trendy look. Block Print work: These types of dupattas are printed with the help of blocks made of wood. Making of these dupattas demands more labour and time. So these are a little costly. The print and colour of these dupattas never fade. So these dupattas have a long life. Block print dupattas for their prints and designs attract so many girls. If your friends are scared of you, wear these block print dupattas and see the miracle.
Kanda Work Dupattas:
Different designs are made on dupattas with silken threads. The designs on these dupattas give embossed view. Very thin work is done very neatly.Mainly the kanda work on colourful dupattas is done with white silken thread.
Bandhej Work Dupatta:
Bandhej work is tied with silk thread and new designs dupattas are being made with it. These dupattas are in trend these days. Cotton dupattas with jaipuri prints are in great demand these days. These are available in multi colors as well. If you like heavy work, then go for bandhej work dupattas with shells and stars work; it will suit you. These dupattas are considered to be the best to add the beauty of the teenager girl.
TIE AND DYE WORK DUPATTAS:
Tie and Dye dupattas have their own importance in the handicraft dupattas. These are printed with the help of coins and vegetable pieces. To give more attractive look, Stars, Gems and shells are put on these. Lace is also put on all the sides of dupattas. With this dupattas look more attractive and beautiful. You can buy them from Khadi Gramudyog, Handicraft Handloom Shop and even you nearby market.
– AARTI RANI